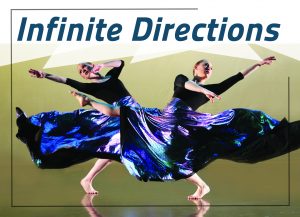 The Department of Dance at Case Western Reserve University will continue the 2017-2018 season with Infinite Directions, a thesis concert featuring works by Master of Fine Arts candidates Carrie Langguth and Karen Opper, with additional works by guest artists and CWRU alumni Karlie Budge and Ying Xu. Infinite Directions features the thesis candidates in solos, duets, and ensemble works. Performances are March 22, 23, 24 at 8 p.m. and March 25 at 2:30 p.m. at Mather Dance Center on the Case Western Reserve University campus.
Ms. Langguth and Ms. Opper each perform in their own works as well as choreograph ensemble works for the production. Rebirth, a solo choreographed and performed by Carrie Langguth takes the audience through the metamorphosis of the dancer, allowing them to see the emergence of a new figure on stage, aided by costume design and music by Francesco Schweizer.
Karen Opper, with CWRU alum Richard Oaxaca, will premiere an original duet conveying how the love between soul mates can defy all odds, through choreographic imagery and theatrical elements. Not even death can keep their characters apart.
Two ensemble works will premiere on this concert, Taut Plexus and In the Depths. Taut Plexus is a quintet for women choreographed by Langguth. Influenced by John Adam's composition, the dancers perform in various groupings within the work's four sections. The movement throughout the piece is physically demanding, fast paced, and complex.
Inspired by Scottish folklore, Opper's In the Depths transports the audience to the dark depths of the ocean. Choreography motivated by fabric manipulation and other theatrical elements bring to life the Finfolk of the ocean deep.
Rounding out the program are two works by CWRU dance department alumni, Ying Xu and Karlie Budge. Xu's Drifting Snowflakes premiered in 2012. Restaged and performed by Opper, it portrays a woman whose memories of her loved one are stirred by falling snow in winter.
Langguth restages Pull, Whirl, Crescendo, choreographed by Budge. The complete three-section work expands upon a solo section of "Pull," which premiered in February 2015 in Knoxville, Tenn., with the inclusion of two dynamic group sections.
Infinite Directions runs March 22, 23, 24 at 8 p.m. and March 25 at 2:30 p.m. All performances take place at Mather Dance Center, 11201 Bellflower Road, on the Case Western Reserve University campus. Tickets are $7 for students with ID, $10 for adults 60+ and CWRU personnel, and $15 for general admission. Reservations are recommended, and may be made by calling (216) 368-5246, or online at dance.case.edu/reservations.